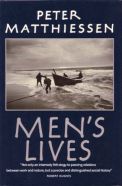 An incredibly detailed and well written account of Long Island's commercial fishermen, Men's Lives is a book that I find hard to put down.
But then again I am a fan of all things nautical and there's a part of me that wishes I could have been part of that nostalgic era.
I remember back in the late 1970's when I graduated high school; you could almost walk across the Great South Bay from clam boat to clam boat.
A lot of people I knew then where buying boats and clamming. But I had a "real job" and was trying to build a career in engineering.
How I wish I had taken a year off and spent it on the bay. That experience would have been priceless and now, thirty years later would there be any noticeable difference in my job status?
My teenage son, Joe who has taken several years off (these kids today…) had the privilege of working with one of Long Island's noted baymen, Frank Sloup.
Frank is unusual in that he is thriving rather than starving. His main fishery, crabs is still viable on Long Island and Frank is a true bayman, working the bay all year long.
Each season brings its own catch and Frank is master of them all.
I'm sure the time Joe spent with Frank will be a treasured memory in later years and, as I said, the experience is priceless.
Interestingly, an unsolicted confirmation of the hardship Matthiessen writes about in Men's Lives came when Joe told me his new job in construction is easier than working with Frank.
Carrying wood up ladders is not as hard as hauling crab traps by hand for 12 hours a day on a pitching boat. And, 2×4's don't bite.
But enough of my rambling…