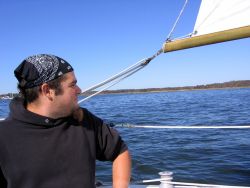 My son, Joe and I took advantage of Sunday's beautiful weather with a quiet sail on Long Island's Great South Bay.
The wind was light, so we just ghosted along soaking up the late season sun on what was very likely our last sail of the year.
That we are surrounded by salt water is one of the things I love about Long Island.
Even though winter is coming, I won't stay away from the shore. I just can't go for very long without hearing, seeing and smelling the sea.
There will be frequent visits to the boatyard and the beach. I'll daydream my way through a cup of 7-11 coffee, recalling summers past and planning next season's adventures.