That a storm hit Long Island this past weekend is news to no one. Many Long Islanders lost power (I was fortunate and did not), lost trees, and sustained property damage.
While everyone was out cleaning up the mess, what was I doing? What I always do after a storm…taking pictures.
Most of my shots are the same old boring storm pix; trees down, etc… but this one I like.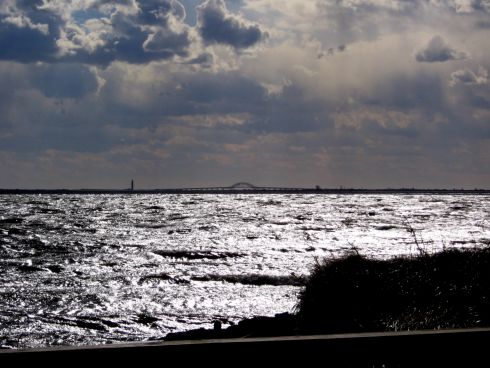 It's a dramatic image of the Great South Bay looking west in late afternoon sunshine. You can see the Robert Moses Bridge, and the water tower on Fire Island. What you can't see is how hard the wind was blowing. I had a very difficult time opening my car door and the bay was kicked up into a spray. I love days like that.
In the Here's-something-you-don't-see-everyday department, I found a 1960's era landing craft at the East Islip marina.
The picture above and the one below were taken just minutes apart. The difference in appearance is due to the direction of the camera. Above is looking west towards the sun. Below is looking east away from the sun.
From the looks of the water in this sheltered part of the marina you'd never know the wind was howling at 30+ knots.
Behind the boat is Heckscher State Park, one of Long Island's largest and most popular parks.