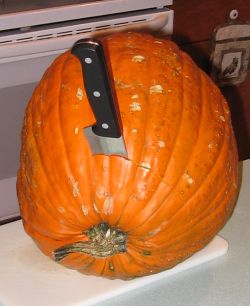 I wasn't going to post about Long Island Restaurant Week. It's been in the papers and on a lot of Long Island related blogs.
Every Long Islander that's interested in food already knows about it, so there's no need for yet another announcement.
However, since this post is about food I didn't feel right about not mentioning it. So, here goes:
Long Island Restaurant Week gives you the chance to dine at some of Long Island's finest restaurants at an unbelievably low price.
For one week, starting Nov. 5th, all participating restaurants are offering a fixed price menu for only $21.95 per person.
Friends, how can you go wrong? Get out there and start eating!
Or, stay home and cook.
Fall is that time of year when many of us get the urge to cook. We want to come in from the cold and get warm by the stove. The smell of a roast or a cake or maybe even some homemade bread can be irresistible. And there's nothing like sharing the warmth of heart and hearth (even if it is just the stove) with good friends and family.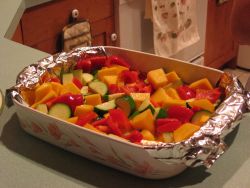 I'm a big fan of the fact that Long Island offers so many ways to enjoy food and drink.
In addition to the hundreds of restaurants we have to choose from, local farms, fishermen, wineries and breweries are an excellent source of fine ingredients for your home cooked meals.
Local chefs such as John Ross have been instrumental in defining Long Island's regional cuisine and showing us how to cook using Long Island's wonderful bounty.
For recipes and history of many Long Island restaurants I highly recommend his book, The Food and Wine of the North Fork.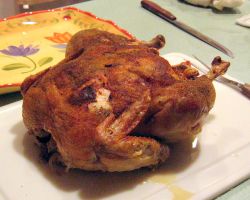 On Saturday night we roasted a chicken and some vegetables, and toasted the seeds from the pumpkin used in the vegetable dish.
We enjoyed a bottle of good Long Island wine too (Wölffer Estate 2003 Reserve Chardonnay).
For desert we ate the pumpkin seeds and were amazed at how well the wine worked with their toasty flavor.
In all we spent 5 hours in the kitchen cooking, eating, talking, and cleaning up; time well spent and a lot less expensive than dining out.
A note about Long Island wine. You can pick up a bottle of Long Island wine for under $10. That may be more expensive than what you're used to paying, but compared to the cost of dining out it is a real bargain.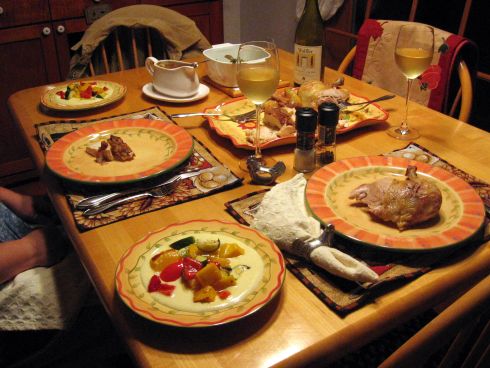 A home cooked meal using fresh, Long Island ingredients. Far less expensive than dining out, yet priceless.
If I'm cooking a decent meal, something that takes time to prepare and time to enjoy, I'll spend $20 to $40 on a bottle of Long Island wine. The same cheaper-than-dining-out logic applies and, if I'm spending that much time cooking, I'm not going to cheap-out on the wine. It does make a difference.
Price is not always a good indicator of wine quality, so when I'm not sure about what to buy I turn to my friend, Lenn Thompson. Lenn just happens to be (among many other things) Long Island's premier local wine expert.
If you want to learn about Long Island wine I highly recommend visiting his blog, LENNDEVOURS.com.