Shelter Island, so named because of the way Long Island's north and south forks shelter it from the sea, is a trip back in time. The island is pristine, dotted with old farm houses on large plots, and is so beautiful it's almost unbelievable.
On Friday I had the "privilege" of driving a carload of teenage girls to their annual retreat at Saint Gabriel's on Shelter Island. Their weekend started with a beautiful sunset view on the ferry ride from Greenport.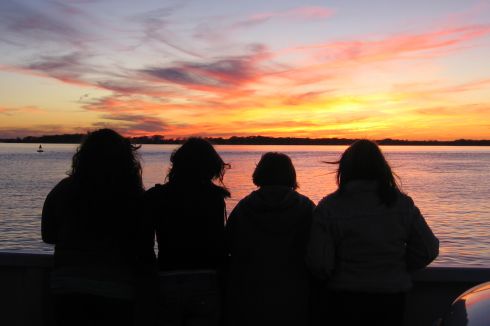 The four girls along with Shelter Island are silhouetted by the beautiful sunset. What a great way to start the weekend.
While they were on retreat I spent the rest of my weekend enjoying Long Island's North Fork.
In all, I ate at 4 Long Island restaurants (Jedediah Hawkins Inn was amazing), visited 3 Long Island wineries and stayed in 1 Long Island hotel. (How many hotels can you sleep in in 1 weekend anyway?)
Needless to say I came home exhausted. And now I have a lot of writing ahead of me…