If you live on Long Island you probably woke up this past Saturday morning to the sound of shovels and scrapers. I'm an early riser so I had a few hours of quiet time before the racket started, but it wasn't long before I found myself out there with everyone else shoveling snow and scraping ice.
I helped two of my neighbors dig out their cars and then drove over to my girlfriend's house to shovel the slippery ice from her concrete stoop and sidewalk. After that my son and I shoveled the ice off of his boat and went for a ride.
A boat ride on a snowy winter's day? Well, I did have to twist his arm a little, but it wasn't too hard.
Joe is one of Long Island's baymen, so with the exception of a short haul in the early spring his boat stays in the water all year long. For most of us a boat ride in the winter is a bit of a novelty. For Joe it's all in a day's work.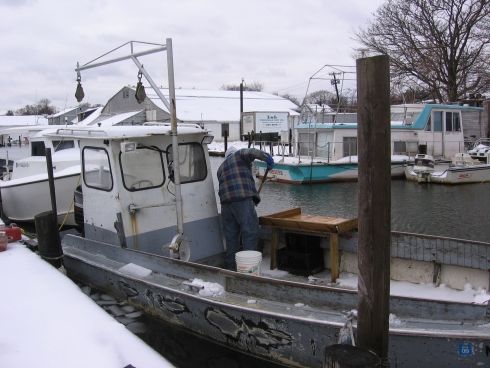 Joe shoveling snow from his boat to prevent ice melt from ending up in the bilge.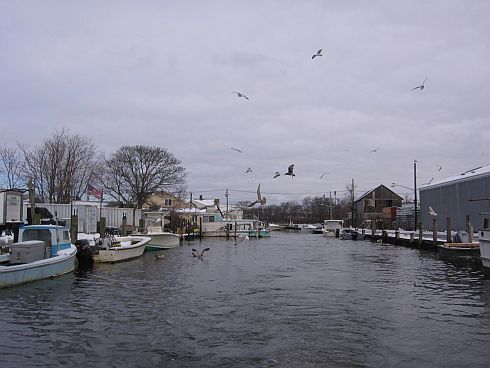 Seagulls know that they frequently get meals from fishing boats. They started following us as soon as we left the dock, but soon gave up when they realized we were empty handed.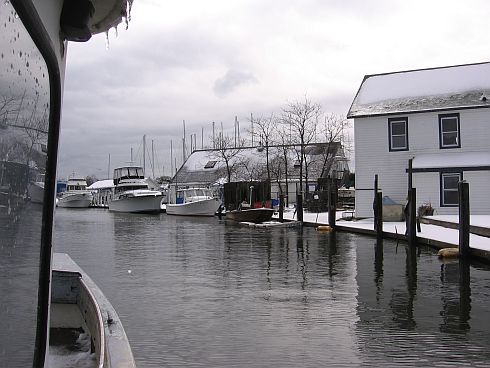 Icicles hang from our pilot house, and snow covered boats and buildings line the canal which is at an unusually high tide. The careful observer will note a small boat sunk up to it's gunwales, a victim of the late winter storm.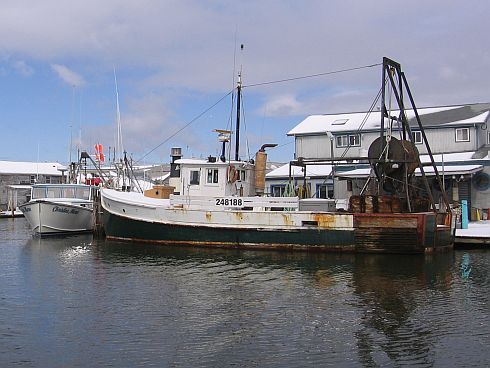 An old, but too young to retire net boat.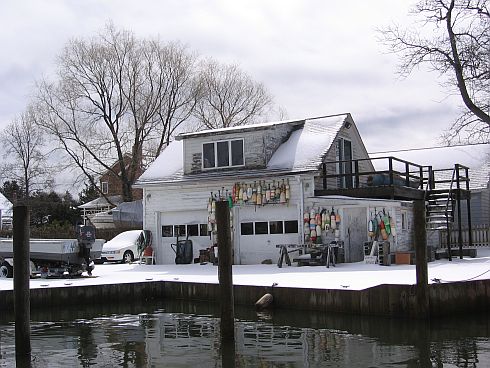 I love this little house/garage on the canal.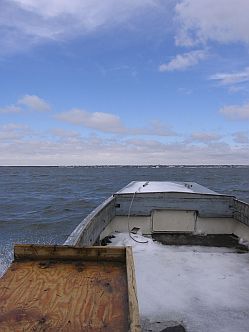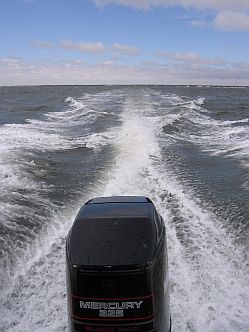 Heading southeast, Fire Island is visible way off in the distance while Long Island is far behind us. (The wooden table is for separating scallops from seaweed.)



The Robert Moses Bridge stands alone under the gray winter sky.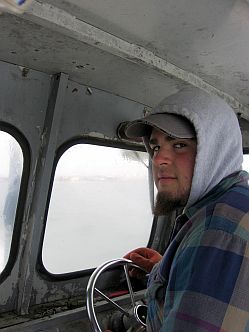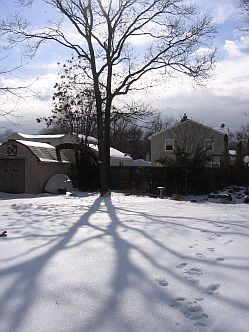 Cap'n Joe really hates having his picture taken. Safely back home, the long shadows at day's end tell me it's time to settle in for the night.
Well, that's not exactly your typical day on Long Island, but Long Island, with it's fleet of fishing boats and spectacular coastline is one of the few  places where it's possible.
Have I ever mentioned how much I love living on Long Island? 🙂