I had a great time at my 30th high school reunion in New York City this weekend and I just had to share some pictures with you…

If you're reader of my website or know me personally you know that I'm a big believer in doing things locally.
Eat local, shop local, drink local, vacation local… Long Island has so much to offer that I just don't see the point in going elsewhere for things we have right here.
Having said that, one of the things I love about living on Long Island is that it is easy to get away when you want to. Long Island Macarthur Airport is centrally located in Ronkonkoma, and New York City, the greatest city in the world, is about an hour away by train.
Left: The Empire State building as seen from the deck of our boat was an inspiring sight. The building was completed in record time before the age of computer aided everything and is testament to the old adage, when there's a will there's a way.
Just think about that for a minute—a 1 hour train ride and you're in the greatest city on Earth. Then, when you're done, you get to come back home.
How lucky we Long Islanders are to enjoy the best of urban, suburban, and rural life.
This easy access to New York City factored in to the planning of my 30 year high school reunion (Plainedge HS Class of '77, you rock! And so do you Jeanne!) and this past weekend we all boarded a 130' yacht for a nighttime cruise around Manhattan.
We had a fantastic time aboard Majestic Voyages' Star of America, and the city skyline at night was spectacular.
Here are some pictures.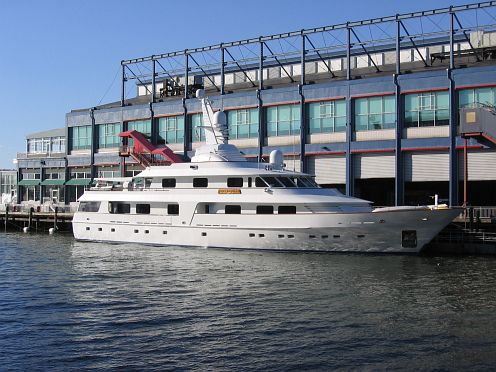 Lord Jim. Not the yacht we were on, but very similar in size and shape. I don't have any pictures of the Star of America, sorry.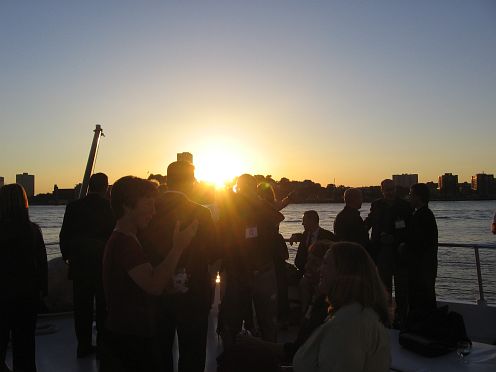 The sun was setting as we began our cruise.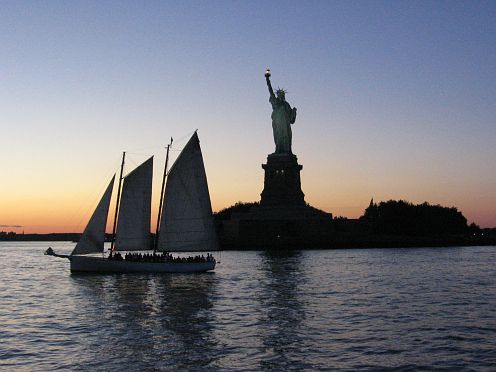 This was a stunning sight. As we sailed past everyone just stopped talking and looked…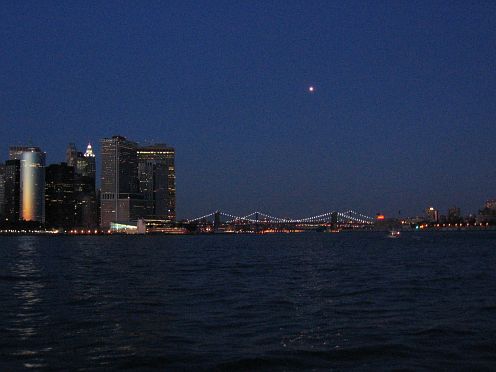 The moon over the Brooklyn Bridge. This photo does not do it justice. You had to see it to believe it.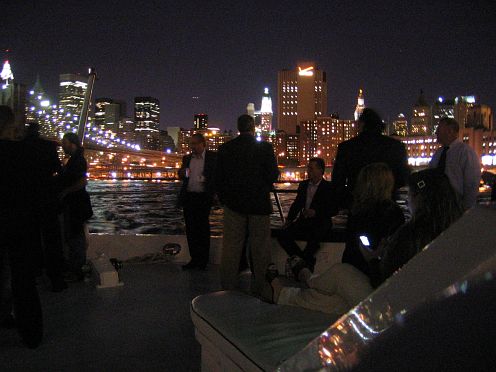 Another incredible scene. I have goosebumps as I'm typing this because it was just so beautiful.
These pictures were taken on September 30th and we are all outside in perfect comfort. Talk about good weather.
After the cruise we went uptown to American Trash, a nice little bar owned by one of our Alumni.
Well, this trip into the city was a total blast. I do like to stay on Long Island most of the time, but every now and then it's not a bad idea to take advantage of our proximity to the city.
On a personal note—to all those who had twist my arm to attend the reunion, thank you. I had a great time. And yes, you can say I told you so. -Bill