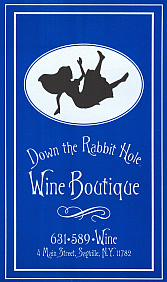 I found the coolest, if not the tiniest little wine boutique on Long Island, in downtown Sayville.
My girlfriend and I were just walking down the sidewalk and all of sudden this wine shop just sort of hopped out at us. We had never seen it before and we both said at the same time, "Where'd this come from?"
We stepped inside and met Suzanne, who told us that she had just started the business. Wine aficionado, figure skater, and artist, Suzanne has put her heart into this wine boutique and it shows.
She's knowledgeable, stocks good wine, and offers it in a fun, and maybe a little quirky environment.
This is exactly the kind of place I like to see on Long Island. It's different, offers something of value, and is completely genuine.
So needless to say, I'm a loyal customer. And, (you know me) I've been taking pictures and asking questions.
Here is my full review of Down the Rabbit Hole Wine Boutique.