We had some pretty rough weather last weekend and while visiting the beach I saw some striking bands of red and black sand tossed up by the waves.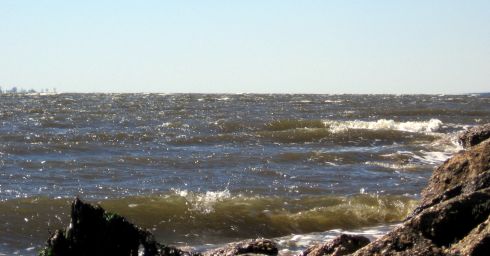 Whitecaps and waves on the Great South Bay
This is a common sight and you've probably noticed these colors in long strips running lengthwise down the beach. The colored sand is composed of garnet and magnetite in roughly a 52/45% proportion with the remaining 3% composed of other minerals. The soft white sand that makes up the majority of Long Island's beaches is quartz.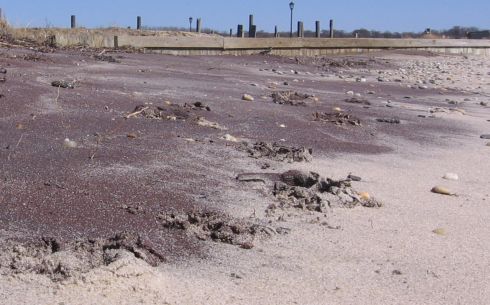 A lot of garnet and magnetite on a beach at the East Islip marina
As a kid I always wondered why and how the red and black sand grains gathered together. It wasn't until my junior high school science teacher, Mr. Lewis explained it to me that the mystery was solved. The garnet and magnetite are much denser than the quartz, so wind and wave action affect those grains differently. That tends to sort them out from everything else.
If you want to look like a geek next time you go to the beach, bring a magnet and magnifying glass (like I do). Drag the magnet through the sand and then look at it with the magnifying glass. You'll see that it picks up black grains of the aptly named magnetite, which is composed mostly of iron.