On Sunday afternoon I drove to my parent's house in Southold on Long Island's north fork for our traditional Father's Day BBQ. Dad passed a few years ago, but I still look forward to spending Father's Day with my mom and relaxing with my kids. My mom's house is just a block from the beach and is the perfect place…
I've been making this short trip routinely since my folks moved from Massapequa ten years ago and you know how it is with things like this, the car knows the way and you really don't pay much attention to landmarks anymore. You pull out of one driveway and next thing you know your pulling in to another.
Lately however, I've been noticing something strange. Something I've been looking at for years but never really saw: The Custer Institute and the Indian Museum are directly across the street from one another.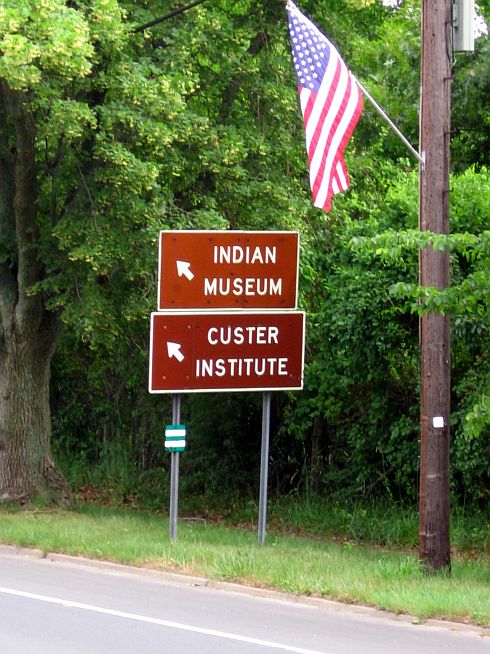 Heading west from Greenport on 25 you'll see this sign. Looks like something from a Far Side cartoon doesn't it?
Seems odd doesn't it? Custer killed a lot of Indians and in the end was killed by them. But there you have it, the two of them side by side on Main Bayview Road in Southold.
Established in 1927, The Custer Institute is Long Island's oldest public observatory and was founded by General George Custer's grandniece, hence the name. The institute is still very active, perhaps more than ever, offering lectures, programs and workshops in astronomy, physics, geology, paleontology and archeology.
The Southold Indian Museum is small but important as it houses the largest collection of Algonquin ceramic pottery anywhere. The museum also owns a 63 acre flint mine in Coxsackie, NY that has been in use for over 7000 years. That's pretty cool.
I'll post more info when I actually stop in and visit instead of just driving by. The irony still gets me though…