Yesterday was haul out day for my son's boat. The procedure is simple: drive the boat to the ramp, wait for the hauler to show up, put the boat on the trailer, and go. Not so easy this time…
It's been cold on Long Island! We've had a few days above freezing, but the nights have all been below the freezing point. For the most part the Great South Bay is free of ice, but the canals still have ice in them.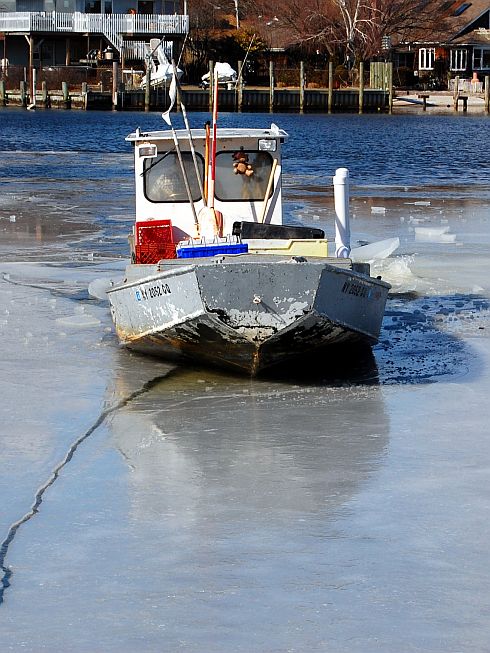 To get to the ramp my son had to break through over 100′ of ice several inches thick. Breaking ice with your boat is usually not recommend unless you know what you're doing and have a boat that will take it.
The trick is to push your boat on top of the ice and let the boat's weight crush the ice underneath it. You don't want to speed into the ice and risk puncturing your hull. It also helps if the shape of your boat allows it to climb the ice.
If you have a deep forefoot and a plumb cutwater, you're out of luck. In that case you'll need someone on the bow with a pole to puncture and clear the ice before you go through it.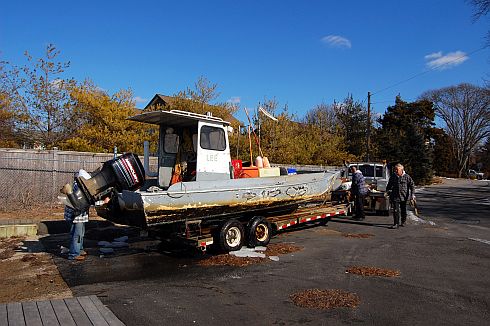 Also, don't be fooled by thin ice. When I was a kid I saw a wooden boat sink because the captain thought he could cut through the thin ice in the marina. He was driving his boat around from his slip to the haulout slip where the Travelift was waiting.
Well, he cut through the ice no trouble at all, but at the same time the sharp ice was tearing through his wooden hull. The boat sank before he was even close.
If you do manage to break ice without sinking your boat, you'll have a nice clean bottom as a bonus. The crushed ice scrapes everything off, even barnacles.
Here's the video:

Breaking the ice on haul-out day
Okay, so breaking ice with your boat is not something everyone on Long Island is doing this winter, but that's why I thought this might be interesting.
Click here for more Long Island videos from Loving-Long-Island.com