Summer is in full swing. Heat, humidity, thunderstorms (luv them), beer, boats, bbq's, beaches. And just when I thought it would last forever something happened to remind me that the end is just around the corner.
It was Saturday night. There were steaks on the grill and cocktails in hand when Karilyn mentioned that she had seen Halloween pumpkins and school supplies on sale at the store earlier in the day. Right then and there my summertime bubble burst. I felt as if someone woke me up during a really good dream.
School supplies? Pumpkins? Already? UGH!!
We spent a good half hour discussing how sick it is to have Halloween stuff in the stores at this time of year before resuming normal conversation.
On Sunday morning I found this poem taped to my office door.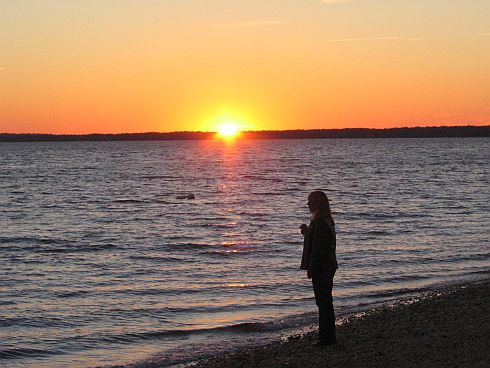 On a quiet beach somewhere on Long Island's north fork.
Passing Summer
by Karilyn Drago
Already shadows grow longer,
night falls more quickly
creeping up on me, as a lover from behind.
Tree frogs call to one another,
sing the melody while crickets chirp the backbeat
and the spider spins her silken web.
A hot July, air barely breathable,
gives way to these cool evenings
with August yet ahead.
It is a false promise, yet a welcome respite – lie to me.
Today I saw school supplies, pencils and notebooks, alongside pumpkins and scarecrows upon the shelf
whispering of cooler days to come.
Not yet, but soon.
I am not ready to concede, oh no, not yet.
Thirty days and more 'til Labor Day.
It will be hot again.
Summer, firm in her grasp will claim me once more,
unwilling to yield to September and beyond.
I pour another glass of Chardonnay
and toast the summer stars
as they cling to the coal sky –
the overture –
before Cassiopeia and the golden leaves of her
evening gown.