I've been reading Sippewissett (or Life on a Salt Marsh) by Tim Traver. (Don't expect a review; the book is about Maine not Long Island.) And it's hard for me to read about inlets, ponds, fish, shore birds, boats… without wanting to be on the water. Fortunately, living only about 2 miles from the south shore,  it's easy for me to get to the water whenever I want without disrupting my entire day. Which is good because I ALWAYS want to be near water. So, yesterday afternoon I packed up a cup of coffee, the book, and my camera to do some reading by the bay.
The Great South Bay can be a lonely, cold, unforgiving place during the winter. On nice days you might see some duck hunters, or a few folks in their kayaks, but yesterday was not one of those days. It was cold and cloudy, and we've had some pretty cold weather here, so much of the bay is frozen. It was the perfect setting for coffee and a book. Sitting by the bay, when it is cold and dark is one of my favorite things to do. In many ways it is better than a beautiful, sunny day. Some of you might understand…
I read into the fading light until I couldn't take the eye strain anymore and then got out of the car to take some pictures . The minute I stepped outside I was swarmed by seagulls. They thought I had food and hovered above me just out of reach. I thought they might drop bombs on me, but I was lucky.
Here are some of the pictures I took:
There were well over 100 birds in the air over me.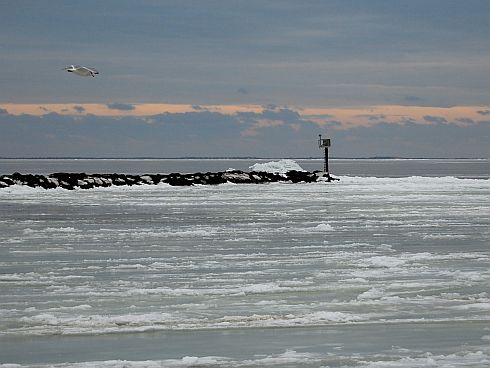 Jetty at the mouth of Browns River. Fire Island in the background.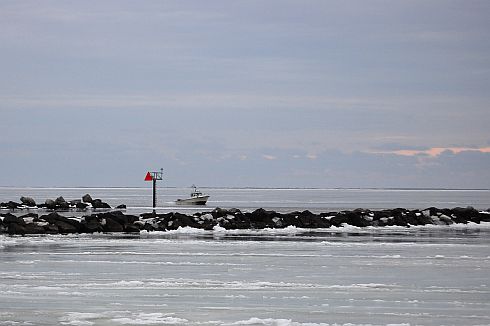 The commercial boat Amazing Grace returns from a long day of scalloping.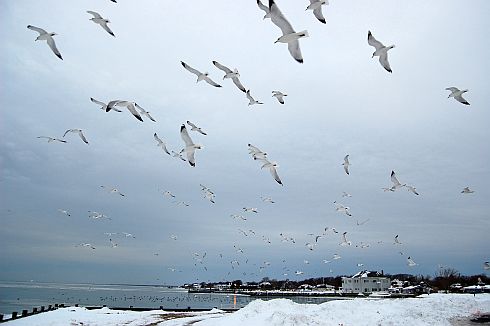 And those pesky seagulls are still at it.