Fellow writer and beer lover Michael Yohe has been visiting the Long Island breweries with stops at the BrickHouse Brewery, the Bluepoint Brewery, the Brooklyn Brewery and Black Forest Brew Haus.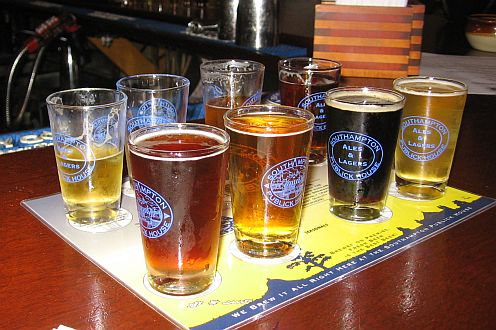 8 beer sampler at Southampton Publick House.
All of these breweries produce excellent beer and some serve food as well. I'd be hard pressed to pick a favorite. From west to east here's the lineup:
Brooklyn Brewery – Read Mike's review of the Brooklyn Brewery here, and get some behind the scenes info with his interview with Brooklyn Brewery's marketing manager Ben Hudson.
Black Forest Brew Haus – Excellent beer and German/American cusine. Read Mike's review of the Black Forest Brew Haus here.
John Harvards Brewhouse – Ha! I beat Mike to the punch on this one. Here's my review of John Harvard's Brewhouse.
Blue Point Brewery – I love this place. Click here for Mike's Blue Point Brewery review.
The BrickHouse Brewery – One of my favorites for great beer, food, and music. Read my review here, and Mike's review of the BrickHouse Brewery here.
We're not done yet. The are 2 more Long Island breweries we have to visit: Southampton Publick House and the Greenport Harbor Brewing Company. Stay tuned…
For a look at all the breweries on Long Island check out Long Island Beer, Breweries and Brewpubs.