As I've said here before one of the great things about Long Island is how close it is to New York City. An hour's drive or train ride and you're there…
On Friday we took a train in to see Cirque Dreams: Jungle Fantasy. If you're familiar with Cirque du Soleil you know this is a bunch of acrobats doing incredible things. And that's an understatement. These guys and girls are truly amazing.
While I'm on the topic of amazing, let me tell you that there's no better way to appreciate an acrobatic performance than to see the Bodies exhibit at South Street Seaport first.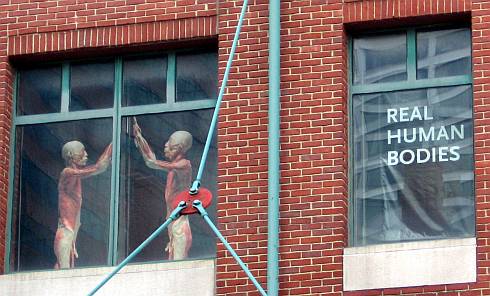 This truly remarkable display of dissected human bodies will shock and awe you. Each dissection highlights a particular area of human function. The bodies are artistically posed and there's no glass. You can get as close as you want.
We spent well over an hour in this exhibit and, strangely, we were all hungry when we left. BTW, we saw plenty of children in the museum and in my opinion (father of 3) the exhibit is safe for kids.
We enjoyed some good food and homemade beer and root beer at the Heartland Brewery directly across the street, then got some airbrush tattoos in the seaport.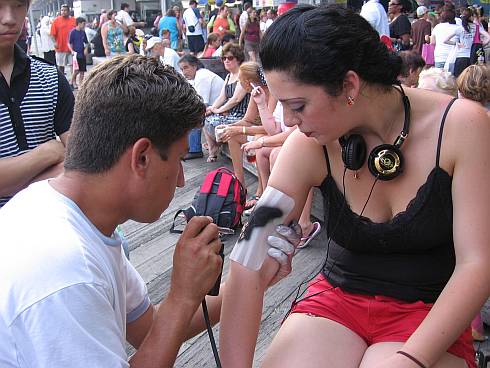 At the appointed hour we hailed a cab to 53rd and Broadway for the show, and then I lost my wallet. I either left it in the cab or it fell into the street. I've since canceled my credit cards and I'll be at DMV tomorrow for a new license and registration.
Now, last summer I found a pocketbook bobbing in the water near Fire Island. I tracked down the owner and returned it. Could that be enough good karma to help my wallet find its way back home? I'll let you know…
Cirque Dreams was very impressive and somewhat frightening at times. I really thought one of those acrobats was going to get hurt. They must be as crazy as they are talented. But they put on an excellent show that's cute enough for kids yet stunning enough for adults.
After the show we walked from the theater through Times Square (a.k.a. The Crossroads of the World) back to Penn Station. Times Square is a stunning sight at night. Lights and people everywhere, the streets are packed so tight you can barely move.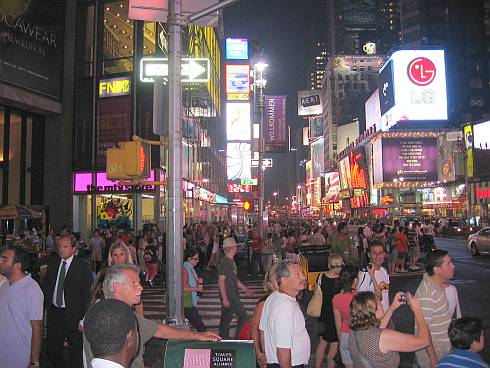 Aside from the lost wallet, it was a great day in the city. BTW, that's how Long Islanders refer to New York City. We just call it The City. What else could we be referring to?